Rebel Rideout to Nashville
I had chosen to go down the Natchez Trace Parkway...a lovely, basically empty road running from Nashville to Nowhere, which was constructed to memorialize, ironically enough, an old Indian trail. What a surprise to find myself in the town where Elvis had been born, Tupelo,Mississippi...I had actually travelled that far down the Trace for the sole purpose of securing a jar of famed Tupelo Honey.
Publicity Photo for Livestock Jamboree
Just pack it up and go! Pick it up and play....that wild ramblin', wanderin' Alicia girl has traveled 41 US states and Canada by motorcycle, pick-up and by horse, playing her own brand of fanciful, handbuilt cowgirl music. Inspired to bring authentic music whever she goes, you may hear her sing in roadside rest stops, street corners, Music Festivals, coffee shops and campgrounds, gay bars, churches, radio stations, gas stations, grocery stores and hardware stores.... The occassional good ol' country classic might be spattered in among her personal collection of homemade tunes ...and all of 'em true, except the ones that aren't. She is also inclined to do homeshows...at both her house and yours if you'll let her...usually by invitation....but sometimes she just shows up....

Dancin' and singin' at the Ithaca Festival '09
A Thoughtful Moment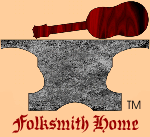 Makin' Music in the Front Yard
Well, I got to visit Elvis's childhood home, which I'm quite sure never looked that good when he lived there. And I visited the chapel built right next door by the Elvis Presley Fan Club AND the Assembly of God chapel recently moved t the property , it being the first place Elvis ever sang publicly. So right out of the blue, and much to my amazement,in the span of one hour I got to visit the home of The King...and Two homes of the King of Kings. I was feeling pretty lucky , so I asked one of the guards where I might get some Tupelo Honey and he said I could probably get some down at the good ol' Tupelo Hardware Store, the place where Elvis's mother got him his first guitar.
Away I went to the Tupelo Hardware Store, and everything was exactly the same, it appeared, as the day Gladys bought that guitar. In fact, they still sell guitars to this very day ...Guitars, and crockery pots, cast iron cookware, paint, picks, and ladders...all kinda stuff...even Tupelo Honey. I picked up one of their guitars, it was very very pink, and started playing right then 'n there and we had ourselves a little hootenanny right there in the hardware store. Then I bought a couple jars of that honey and a handful of guitar picks, then saddled up and headed North.... and I gave all that stuff as souvenirs for my loved ones back home.